An Open Air Museum in Istanbul: Mosaic Feast
Posted on August 30 2019
There is a street we can call the open-air mosaic museum at 4 Levent, Istanbul. Although Levent and its environs are one of the busiest areas of Istanbul due to the presence of business centres, this street has detached houses and parks with a quiet and pleasant environment. When you enter Akcam street and walk about 100-150 meters, you will be greeted by 3 large mosaics on the right side of the apartments facing the street. You can explore other mosaic artefacts as you walk through the streets. You can see the locations of the mosaics on the map below.


Konaklar neighbourhood, Akçam Street and its streets have been hosting 6 important representatives of Contemporary Turkish Art since 1957; Bedri Rahmi Eyüboğlu, Nurullah Berk, Ferruh Başağa, Sabri Berkel, Ercüment Kalmık and Eren Eyüboğlu. In the project that took place between 1947-1957, the artists entrusted us 20 mosaic panels. The architects who implemented and designed the project are Kemal Ahmet Arü and Rebii Gorbon.
Turkish painter and poet Bedri Rahmi Eyüboğlu was born in 1911 in Trabzon. He graduated from the Academy of Fine Arts. Folk art, which he described as the art of telling a lot with little material, was the source of his works. Bedri Rahmi's work as an artist and a poet, as well as poetry and writing, is an important aspect. Eren Eyüboğlu is the wife of painter Bedri Rahri Eyüboğlu. Born in Istanbul in 1906, Nurullah Berk was one of the first representatives of geometric-figurative production (constructivism). Ercüment Kalmık was an artist and art historian, known for his work studying the lyrical-abstract Turkish painters.


In December 2012, these works were decided to be protected by the Istanbul Regional Protection Board No. 3. The destruction on them was documented one by one, followed by a comprehensive restoration project by the Besiktas municipality. The people who had their original form in the hands of the mosaics delivered the photographs to the municipality and the restoration was carried out accordingly.
How to go?
Buses from Besiktas to Maslak, Sariyer or with M2 subway get off 4.Levent station. Head to Akcam Street.
Where to take a break?
If you want to take a little break while visiting the mosaics, you can taste the renowned Dibek coffee with almonds in the Artukbey Café.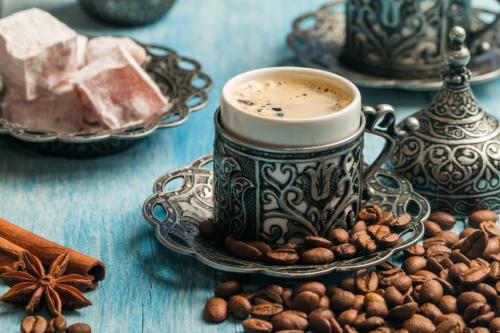 Source:
http://www.biristanbulhayali.com/4-levent-mozaik-panolari
https://www.arkitera.com/haber/besiktastaki-20-mozaik-koruma-altina-aliniyor/
https://ahmetrustem.wordpress.com/2015/08/27/4-levent-mozaikleri/